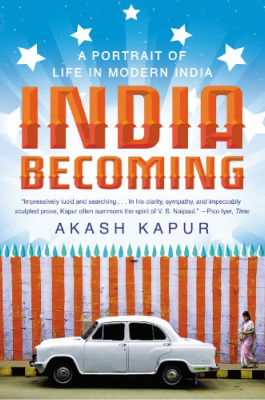 A book about changing India, told through ordinary people's lives, and the disruptions and liberations of rapid economic development.

"Lucid, balanced… Kapur is determinedly fair-minded, neither an apologist nor a scold, and he is a wonderfully empathetic listener." 
—The New York Times Book Review 
"Impressively lucid and searching… In his clarity, sympathy and impeccably sculpted prose, Kapur often summons the spirit of V. S. Naipaul."
 —Pico Iyer, Time magazine 
"There are many virtues of Akash Kapur's beautifully sketched portrait of modern India. The book reads like a novel. Kapur's skill is to get people talking and to weave their stories into a necessarily messy debate about India's future."
— The Financial Times
"[R]eadable, acutely observed and crammed with well-drawn characters… Mr Kapur offers a corrective to a simplistic "new, happy narrative" of a rising India. That is welcome and he does it well."  
—The Economist
"This takes, wisely, a humble approach: instead of trying to encapsulate the entirety of India's changes, it follows a few lives along the idiosyncratic ways they develop."
— Evan Osnos, The New Yorker, Best Books of 2012
"Kapur…is an excellent ambassador to explain the dynamic of change in India, what the nation is becoming. Any reader who would like to understand the country better would do well to give him a read." 
— The Daily Beast (a "Nonfiction Must Read")
"A remarkably absorbing account of an India in transition–full of challenges and contradictions, but also of expectations, hope, and ultimately optimism."
—Amartya Sen, Nobel Laureate, author of Development as Freedom
"A wonderful writer: a courageously clear-eyed observer, an astute listener, a masterful portraitist, and a gripping story teller."
—Philip Gourevitch, author of We Wish To Inform You That Tomorrow We Will Be Killed With Our Families
"Marvelous… Sharp-eyed, insightful, skillfully-sketched and beautifully written, India Becoming is the remarkable debut of a distinctive new talent."
—William Dalrymple, author of Nine Lives
A Better World
Subscribe to my newsletter. Updates on my work, original writing not published elsewhere, and readings and thoughts from around the Internet. You can unsubscribe anytime.